In the center-left of the above painting, between the two houses, is a path I have many times taken. It removed one from the bustle of the  world. An oasis where one still could hear the world, but which one felt protected from it. A steep incline between small gardens and wooded lots took you gently to the next town where Anaïs Nin once lived: Louveciennes. In that house she met Henri Miller in 1931. And the rest is history. It took many years before one of my acquaintances offered: You should read her diaries.
The following paintings are of Louveciennes by Sisley.
[Click on the pictures below to see the larger version]
The aqueduct painted by Sisley, as seen, first image, in the gallery above, was built under the Sun King's to bring water to the fountains and gardens of the palaces of Versailles and of Marly where some of the water trickled down to the waterhole, my childhood playground, mentioned in previous posts. "King Louis XIV needed a large water supply for his fountains at Versailles. The amount of water needed per day for these fountains was not much less than the amount of water used per day in the city of Paris." The much needed water was pumped out of the Seine river in Bougival using "a French engineering marvel completed in 1684" called the Machine de Marly (painted several times by Sisley). "It consisted of fourteen gigantic water wheels, each roughly 11.5 meters or 38 feet in diameter, that moved 221 pumps to bring water 177 yards (162 m) up a hillside from the Seine River to the Louveciennes Aqueduct… It required a permanent staff of sixty to maintain, and often required costly repairs, but worked 133 years.
So now, we are in Bougival on the banks of the Seine River, the village which inspired Renoir to create one of his most ambitious and beloved works: Dance at Bougival (1883)(see next illustration). Other impressionists were also inspired by the mood found in this quaint village, Maurice de Vlaminck, Camille Pissarro, Berthe Morisot, Claude Monet, J.M.W. Turner all painted Bougival and the Seine.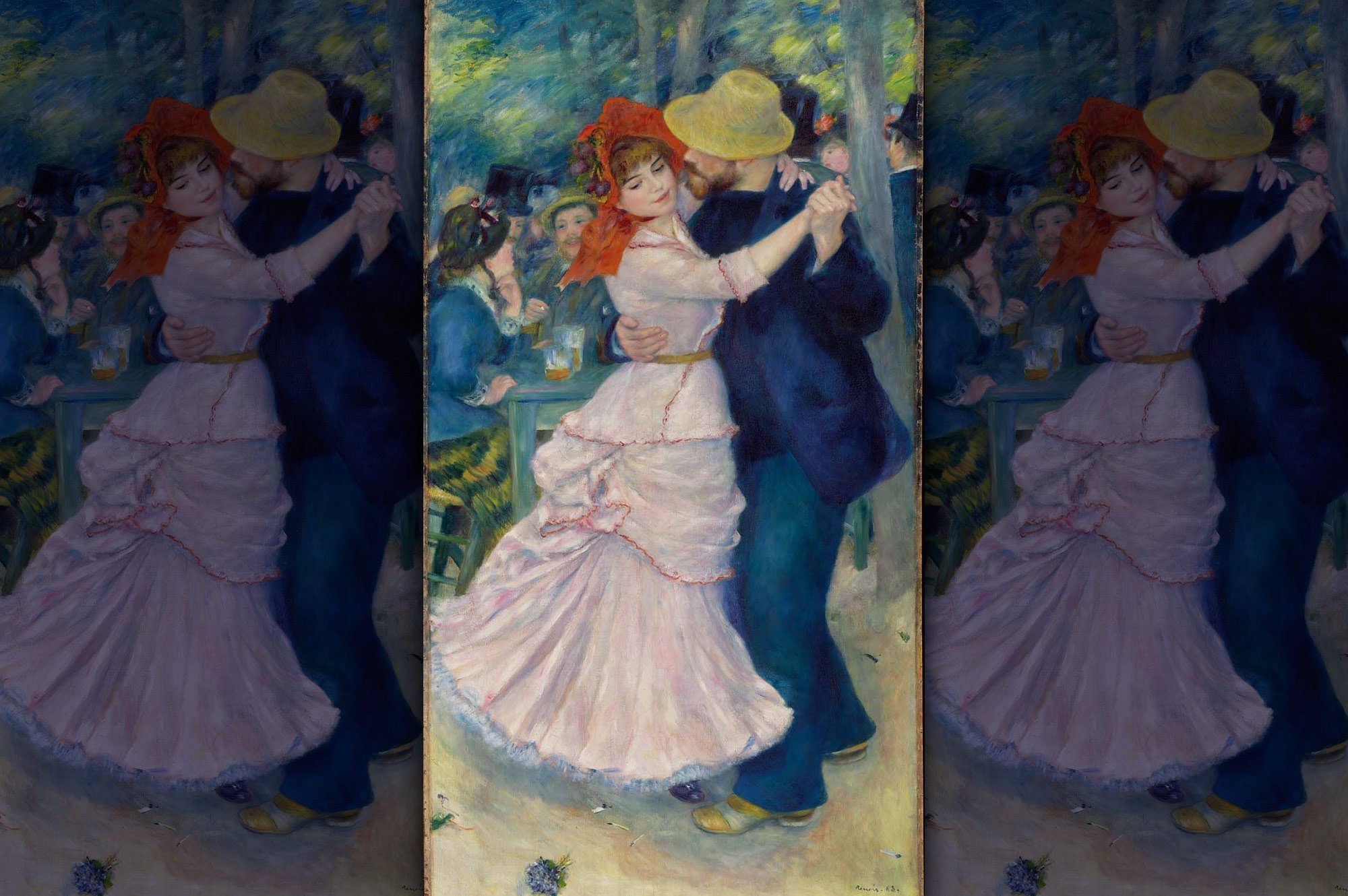 From there, away from Paris, the road along the Seine river will first take you to PORT-MARLY (see below).